Iguazú Falls - Information
Live Iguazu Falls in Argentina

Iguazu Falls consists of 275 waterfalls, all located less than 3 km of the Iguazu River. Some reach 80 feet tall waterfalls although most were about 64 meters. Garganta del Diablo or Devil's Throat is the most impressive of all. U-shaped with a width of 150 meters and a length of over 700 rock marks the border between Argentina and Brazil. Surrounded by a tropical forest of bamboo and palm trees, populated by parrots and monkeys that hide the ruins of a 18th century mission, Iguazu Falls seems broken in this time and perhaps in the world. Iguazu Falls is higher than Niagara and even larger than Victoria. But find 275 separated waterfall alone can not compete with the wall of water over 1700 meters of Victoria.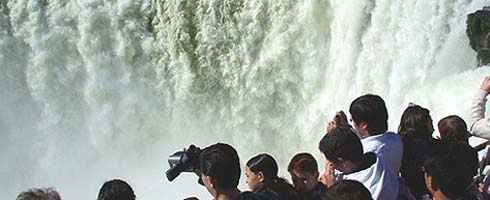 The falls ...intimate .
The Argentinean side provides an intimate touch with the falls. Many walking trails were paved throughout the reserve, and a free train brings visitors from the gate to the falls themselves. These facilities allows a close encounter with the falls. Walking through the parks makes it possible to enjoy the rich flora and the huge amount of beautiful birds, butterflies (over 500 types in the area) and other animals.

The Devil´s Throat in Argentina side

The most impressive fall in the area is called La Garganta del Diablo, meaning "the Devil's throat".
Excitement lovers can take a speed boat along the Devil's canyon up to the Garganta del Diablo falls.
I find the Brazilian side less impressive. It is much more crowded (since there is only one trail which all travelers are walking through) but it provides beautiful scenery of the falls (as all say - more panoramic views), therefore it shouldn't be missed as well.