Iguazú Falls - Information
Best seen from the Brazilian side

The spectacular Devil's Throat, garganta del diablo, where fourteen falls drop 350 feet with such force that there is always a 100 foot cloud of spray overhead. Watch for the rainbow! For a close up view, walk through the subtropical forest of National Iguaçu Park to the base of Salto Floriano and take the elevator to the top of the falls. or walk out over the falls at Salto Union. From the Argentine side you can take a series of catwalks over the water rushing into Devil's Gorge. Protective rain suits are provided. There are some areas where it is possible to swim in the spray of the cascades. Ask locally for instructions but be aware that you might have a resulting problem with cuticle parasites.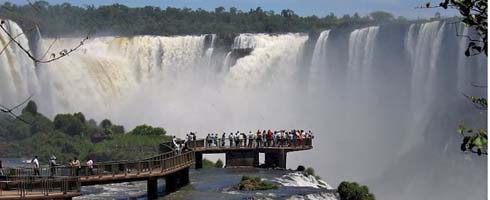 The falls ... nice tropically weather .
The best times to see Iguazu Falls are in the spring and fall. Summer is intensely tropically hot and humid, and in winter the water level is considerably lower.

Downstream from the falls where the Parana and Iguazu rivers meet, so do the borders of Argentina, Brazil and Paraguay. Each country has created a landmark in their national colors on a spot in each of their countries where you can see all three.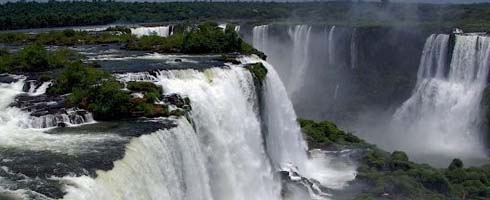 The name of the Iguazu Falls
The name of the falls comes from the Guaraní word for "great water." The first Spanish explorer to see the falls (did you see the film The Mission?) was Álvar Núñez Cabeza de Vaca in 1541 but the vast power of the falls was not fully utilized until the construction of the huge Itaipu hydroelectric power plant built jointly by Paraguay and Brazil. Completed in 1991 the dam is open to tours and provides 12,600,000 KW of power satisfying almost 40% of Brazil and Argentine power needs. The dam one of the largest in the world is touted by both countries as a masterpiece of technology.